The Finalists 2018 – Search For A Star & Sumo Digital Rising Star Code
You have already been able to read about some of the amazing video games veterans who have helped assess this year's submissions. Today, we will introduce our coding finalists.
This is the nitty-gritty of games development, turning matrix style lines of alpha-numeric encryption into games you can play. These finalists have been assessed, not only on the technical skill of coding but on the playability of the games. We heartily encourage you to go and give the games a try.
Search for a Star 2018
Our first game offering is Search for a Starship from Aleksis Andzans. One of several finalists from Southampton Solent University this year, Aleksis scored points with assessors for taking a simple and elegant concept and adding some twists to give it a real sense of challenge, not forgetting the playful pun in the game title.
An enjoyable, if challenging game, for fans of classic platform titles.
You can see more of Aleksis' work in their portfolio.
There is something wonderfully primal in Robert's game, Sportsball. The MComp Computer Science grads title harkens back not just to sporting events, where powerful players shoving each other around to get a ball like the Superbowl and Six Nations, but also to the beginning of video games and titles like pong.
Fans of classics like Super Bomberman will easily recognise the sheer joy of multiplayer games like Sportsball.
Assessors were really impressed with Robert's documentation, and use of systems like Trello to organise their work. While a games jam style does tend to leave room for improvement this is clearly lots of fun to play.
Another Newcastle Masters grad, Alvaro presents us with the very fun multiplayer Capsule Bash. Again a title that harkens back to classic multiplayer games like Super Bomberman, but Alvaro's choice to invest time in producing an AI opponent for the game really impressed assessors. This choice, along with a fun playable game; some unique gameplay features like the central tower; clear project planning and deft application of music cues makes Capsule Bash a strong contender.
From boxes and balls to swords, axes and rocks. Sheffield MComp Computer Science for Games grad Jack Holmes brings us Warrior Island. Another lovely versus title that, while it lacked some of the detailed development documentation of other submissions, made it through for its buckets of additional gameplay elements.
Animations, environmental threats, a good atmospheric feel, and well developed UI certainly impressed the assessors.
Want to see more of Jack's work?
Pop over to his portfolio HERE.
"Cool Beans" is the offering from University of Aberdeen Bsc Computing Science grad Mikolaj Pansiuk. Blasting his way into the final's shortlist Mikolaj impressed assessors with both the coding and the humour in this 3rd Person Shooter.
The addition of multiple levels, and the simple touch of a funny and engaging storyline really set this game apart from this year's entries.
Graduating this year you can find out more about Mikolaj on their GitHub Page.
Sumo Digital Rising Star 2018
Alongside Search for a Star, there are also the students competing for a possible internship at Sumo Digital. Meet the Sumo Digital Rising Star Animation Finalists.
One of the most polished games in the Sumo Digital Rising Star competition "Cylinder Battle" has been submitted by UCL MEng Computer Science student Sondre Agledahl. Assessors were really impressed not only by the number of gameplay elements that had been implemented but also the addition of technical elements including a dynamic split screen camera system.
A very accomplished submission that has impressed on a number of levels.
You can see even more of Sondre's work on their site.

Don't let the minimalist retro stylings of fire escape fool you, assessors have been really impressed with the game at the heart of this submission. Well thought through, well coded and most importantly fun. While it may lack the sound and effects of other finalists the core-mechanic presents a solid foundation that has propelled this game into the final.
Ethan comes to Sumo Digital Rising star from Southampton Solent University. One of a number of finalists from Southampton, Ethan has been studying Computer Games (Software Development) and will be graduating in 2019.
Escaped the fire and want to look at Ethan's other work? Here's a link to their portfolio.
1 of 3 finalists from UCLan, John is continuing the impressive run of the university's students in Search for a Star and Sumo Digital Rising Star. Following in the footsteps of entrants like James Hutchinson, James has submitted Star Slinger.
This top-down starship shooter with custom ship-building impressed assessors with its focus on core game mechanics, excellent documentation and technical elements including online matchmaking. The use of a resource-limited customisation feature added to the tactical elements of the game that our assessors enjoyed playing with.
John graduates in 2020. With the ability to craft games like Star Slinger we think they have a bright future ahead of them. Want to look at more of John's work? Here is a link to his GitHub page.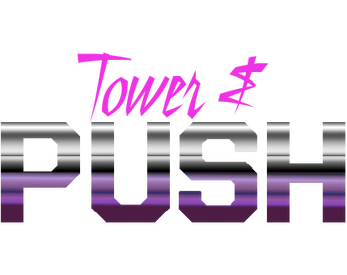 Stuart's game "Tower & Push" really impressed assessors with its superb core concept. Deciding to submit a different take on classic tower defence games, Tower & Push impressed for its use of a credit system and a depth of options. While the controls were seen as a little unintuitive, there was certainly fun to had by those who persisted. A great concept that assessors would love to see developed further.
Stuart is currently studying for a BSc Computer Science at UCLan and graduates in 2020.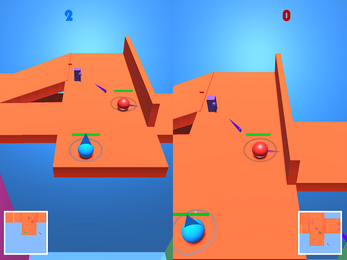 SphereRoll is the work of UCLan MComp Computer Games Devlopment student Matthew Lowe. This platform style racer impressed assessors with its solid concepts, fast pace and the fact that players could race against each other or work together to complete levels.
As well as being fun to play, the game impressed on a technical level with elements such as the auto-aiming, units to shoot or try and get passed and a 2nd Camera for each player.
Why not look at some more of Matt's work in his portfolio.
Want to see all the action at Finals Day? Tickets are free for to all students, lecturers & academics involved in games-related courses.
If you are from a studio or publisher and would like to attend contact Rachel at rachel@aswift.com.
See you on the 6th of April